SEO Copywriter & Content Strategist
I help marketing teams create great content, save time, and publish consistently. I write clever copy focused on conversions and listen to my clients' needs and wants. Marketing agencies and SaaS, welcome!
Hire Me
View My Work
I'm a web copywriter for agencies, SaaS, e-commerce, and contractors.
I have 5+ years of experience creating content for a variety of industries, including digital marketing, SaaS, e-commerce, and home improvement. From blog posts to service pages, I'll work with you to craft compelling copy that will capture your audience's attention and help you reach your goals. I can also take a management role in your team, helping to oversee content creation, review, and publication. Schedule a Zoom meeting with me today to discuss how I can help grow your business. Thank you for considering me as your copywriter!
"Salvador's content hits the nail on the head, every time. His blogs are timely and relevant, with some of our top engagement rates on the website and social media. We've even repurposed his work into email campaigns and landing pages with equal success."


Russell Wojcik, Content Strategist at Digital Current
"Finding a writer who is good at marketing can be a real challenge. And finding an outsourced writer for creating product landing pages is almost impossible. But Salvador once again proved that to every rule there is an exception. He is the one who goes that extra mile to actually understand the product before creating the content for your company."
Igor Shekotikhin, Head of International Growth at JivoChat
"Working with Salvador was great. His articles are well researched, and it's clear that writing is his passion. He's always open to feedback and understands quickly what the brand's voice is. I'm already looking forward to future collaborations."

Paula Grochalová, ​Content Manager at Kontentino
"Salvador was a pleasure to work with. His communication is excellent, and he kept me up-to-date on every step. He was clearly passionate about achieving the goal of the piece and was very open to feedback, which he implemented stunningly. I highly recommend!"
Maeva Cifuentes, Founder of Flying Cat Marketing
"This is an absorbing, well-explained and fun read on an essential topic; including actionable pointers… And it's content that is very close to our hearts! Psychology and emotion are huge factors in ANY brand's marketing — plus all other areas of business. Unmissable for any pro currently planning 'humanized' marketing initiatives for 2019."
Sam Hurley, Marketing Influencer and Managing Director at OPTIM-EYEZ
Read the quote here (in the third section).
Content Solutions To Scale Your Business
Grow Your Business with SEO-Optimized Web Copy & Digital Marketing Services.
Web Copy
Need compelling, SEO-friendly web copy that speaks to your target audience? Whether you need product descriptions, blog posts, website pages, or service pages, I can help you craft content that resonates with your readers and drives conversions.
Sales Copy
I specialize in persuasive sales copywriting that is focused on conversions. From landing pages to ads, my goal is always to create content that resonates with your target audience and helps you close more deals.
Email Copy
Having trouble getting your customers to open and click through on emails? I can help you craft intriguing subject lines, create automated sequences, and optimize your email campaigns for conversions.
Blogs & Content Calendar
Need help creating a content calendar and managing your blog? I can strategize with you to put together a content calendar that works for your business, and write blog posts that are SEO-friendly, engaging, and informative.
On-Page SEO Optimization
Let's optimize your content for search engines by researching and implementing relevant keywords, adding meta tags, and optimizing other important on-page elements. I'm well-versed in SEO best practices and can help you create content that ranks.
Website Development
I can build a simple and effective website from scratch. My passion for digital marketing and copywriting means I can create content while designing the website, which helps save you time and money. (I only offer this service to some small companies.)
When satisfying your clients takes all your time, creating enough content is either impossible with your current team – or it becomes a chore.
How do you find the time to create a masterpiece out of a blank page, along with the space to let your creative juices flow?
You obviously know the other way out – outsourcing the job. I'm not going to pretend you're dumb.
The problem? Finding the right copywriter isn't easy. It's like Tinder with more clutter and without a juicy reward at the end.
Either the content lacks that 'something' that leads your audience smoothly through the sales funnel, or you need to spend your weekends editing to make sure it does.
You can see me on high-ranking marketing sites like Kontentino and Ecommerce Platforms, covering topics like conversion optimization, Inbound, SEO, Ecommerce, and much more.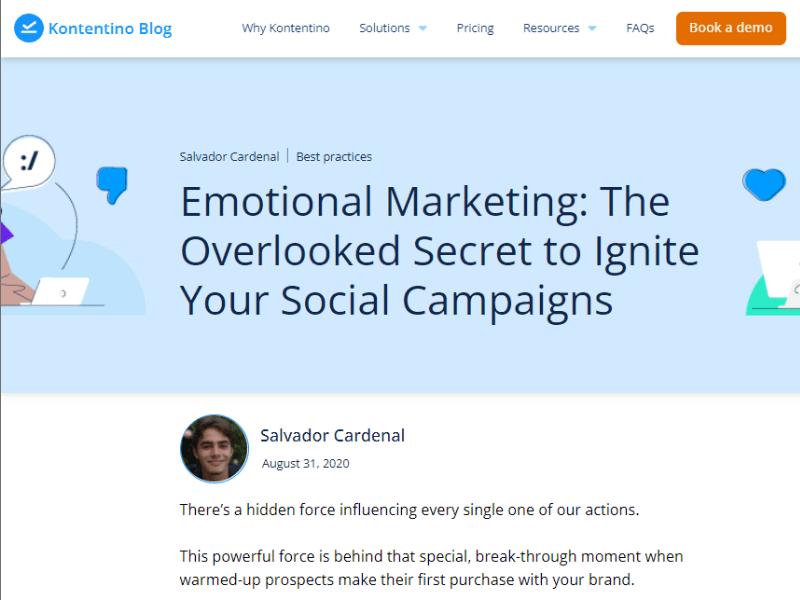 Kontentino
Emotional Marketing: The Overlooked Secret to Ignite Your Social Campaigns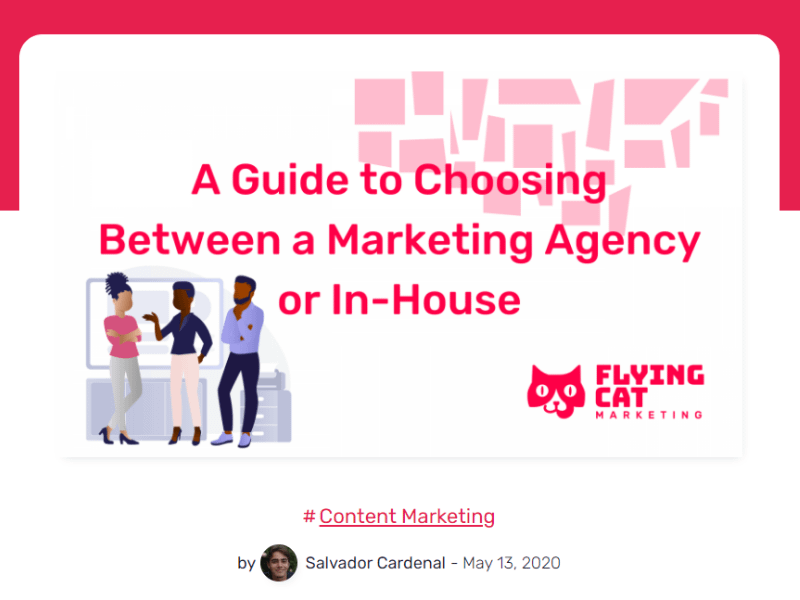 Flying Cat Marketing
Guide to Choosing Between a Marketing Agency or In-House
Ecommerce Platforms
Do Ecommerce Marketplaces Have Tax Problems?